Este proyecto forma parte de una manzana cerrada de edificaciones destinadas a un uso residencial y ocupa un espacio eminentemente lineal que da fachada a la Avenida Barcelona (vial de reciente creación que discurre sobre el antiguo trazado de las vías del tren) y gira hacia la calle Maestro Giner.

La volumetría es la que resulta del aprovechamiento urbanístico máximo permitido en la parcela: una edificación en L.

La parte lineal más larga tiene profundidades variables que se adaptan a la irregular parcela, con una altura de PB+6, mientras que el brazo corto tiene una altura (PB+4).
This project is part of a closed city block of residential buildings. It occupies an eminently linear space that faces on to Avenida Barcelona (a new street where the railway line used to be) and turns into Calle Maestro Giner.

The volumetric result of the maximum occupancy permitted in this plot is an L-shaped building.

The longer arm is of variable depth to fit in with the irregular shape of the plot. It has a height of GF+6, while the short arm is PB+4 high.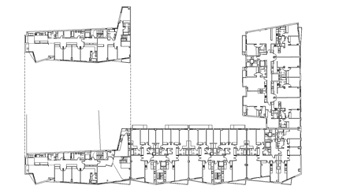 El interior de la parcela se plantea como un espacio vecinal elevado bajo el cual se disponen dos plantas de comercial y tres plantas de aparcamiento bajo rasante.
En el ala de mayor longitud y altura se disponen 4 núcleos de comunicación vertical que sirven a 2 viviendas por rellano, y se mantienen unas constantes que agrupan las estancias de día asociándolas al espacio exterior, mientras que al espacio interior de manzana, darán las estancias de noche.
Las viviendas son pasantes, a excepción de las dispuestas en las esquinas, y es el paquete de servicios central el que divide la planta en zona de día y zona de noche.
En el ala de menor longitud y altura se organizan las viviendas con un único núcleo de comunicación vertical del que arranca un corredor que distribuye hasta 7 viviendas por planta. Las piezas de servicio son interiores, adosadas al corredor-distribuidor, mientras que las zonas de estar y dormitorios dan al espacio exterior.
La volumetría es sensible a la orientación y sobretodo a la situación del parque Ribalta, y es hacia la Avenida Barcelona, donde el plano de fachada se agita, se pliega, y los balcones se disparan, buscando las visiones laterales hacia el parque y las montañas que se divisan a lo lejos.
The interior of the plot is seen as a raised neighbourhood space. Two floors of commercial premises and three floors of underground car parking are placed underneath it.
The longer and higher wing has four vertical communication cores serving 2 flats per landing. A constant feature is that the day rooms are grouped together and associated with the exterior space while the night-time rooms give on to the interior of the block.
The flats have a flow-through floor plan, except for those on the corners. It is the central package of services that divides the plan into a day zone and a night zone.
In the shorter, lower wing the flats share a single vertical communication core. The corridor leading off from it on each storey serves up to seven flats. The service rooms are on the interior, placed against the corridor, and the living and bedroom zones open onto the exterior.
The volumes are sensitive to orientation and particularly to Ribalta park, so the plane of the façade on Avenida Barcelona shakes and folds and the balconies shoot out to catch side views of the park and the distant hills.