El punto de partida para actuar sobre el edificio que nos ocupa arranca del propio proceso constructivo que se llevará a cabo sobre éste. El vaciado de su interior, manteniendo únicamente las fachadas, nos conduce a entender el volumen original como un recipiente que albergará la nueva construcción. Los gruesos muros de fachada, cuya proporción entre macizo y hueco es similar, forman un contenedor potente y abstracto dentro del cual se desarrollará el programa.

Los distintos usos se agrupan por plantas, tratando de aprovechar las compatibilidades que existen entre ellos. Esto nos conduce a situar los paquetes de programa más "públicos" en las tres primeras plantas y los más administrativos, en las dos superiores. Dos vacíos dispuestos en cascada en la primera y segunda planta, forman un espacio diagonal que relaciona visualmente las plantas más concurridas del edificio. Al mismo tiempo, estos vacíos separan distintos paquetes de programa en una misma planta.

Dentro de los diferentes niveles del contenedor, se persigue que el espacio interior se manifieste continuo y diáfano, en constante contacto con la vegetación de la plaza Gabriel Miró. La necesaria estructura que deben adquirir estos espacios para poder ser utilizados según las necesidades del programa, se resuelve mediante "parabanes" de vidrio que acotan los distintos usos sin alterar la unidad espacial, o con el propio mobiliario.

Se recomponen adecuadamente las fachadas en planta baja y el cuerpo del ático se convierte en un discreto volumen, ligero y abstracto. Se refuerza el contenedor, el elemento portante pasa a ser un muro perimetral de hormigón que trasdosa al preexistente y el núcleo de servicios y comunicaciones verticales, de hormigón visto. Las luces de un elemento a otro se salvan con vigas metálicas en H dispuestas cada 1,5 metros, módulo hueco + macizo de fachadas.

La cubierta inclinada del edificio se remplaza por una cubierta plana, formándose así una terraza accesible desde la planta ático que disfrutará de unas buenas vistas sobre los árboles de la plaza y la ciudad.

Se ha pensado utilizar materiales originales para las fachadas. Carpintería exterior de acero inoxidable mate. El mismo material para revestir la caja de servicios. Yeso pintado en el perímetro interior del edificio. Vidrios trabajados de diferentes formas para los "parabanes", y tarima de roble utilizada como pavimento técnico de mínimo espesor.

Intentamos así provocar un lugar de trabajo óptimo al mismo tiempo que conferir al edificio el carácter de representatividad que le corresponde.
The starting point was the construction process that would take place in the building in question. The demolition of the interior, keeping only the façades, led us to perceive the original volume as a container that would hold the new construction. The thick walls of the façade, with a similar proportion of solid wall and openings, form a powerful abstract container in which to develop the brief.

The various uses are grouped by floor, attempting to make use of the compatibilities between them. As a result, the more "public" parcels of the brief are placed on the bottom three floors and the more administrative ones on the top two. Two voids cascade through the first and second floors, forming a diagonal space that relates the busiest floors of the building visually. At the same time, they separate different parcels of the brief placed on the same floor. Within each level of the container, the interior space aims for continuity and clarity, in constant contact with the vegetation in Gabriel Miró square. The structure that these spaces need in order to be used in accordance with the brief is provided by glass screens that mark off the various uses without affecting the spatial unity, or else by the furniture.

The ground floor façades are suitably recomposed and the rooftop storey becomes a discreet volume, light and abstract. The container is reinforced: the new bearing structure is made up of a concrete wall lining the existing outside wall and the services and vertical communication nucleus, of exposed concrete. The distance from one to the other is spanned by metal H-section beams every 1.5 metres, the open + solid module of the façades.

The pitched roof of the building is replaced by a flat roof, providing a terrace that can be reached from the rooftop storey, with good views over the city and the trees in the square.

The intention is to use original materials for the façades. Matt stainless steel for the external joinery. The same material to clad the 'services box'. Painted plaster on the interior of the perimeter walls. Glass treated in different ways for the screens, and oak floorboards as a minimum thickness heavy-duty flooring.

The aim is to achieve optimum working conditions while giving the building a suitably representative character.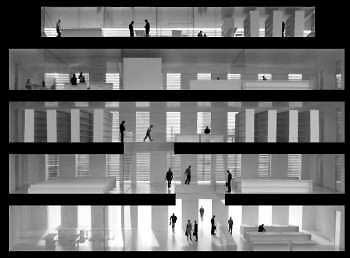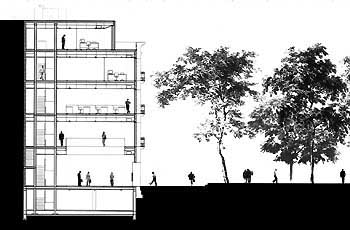 Colaboradores / Colaborators:
Rafael Duet Redón, aparejador/ quantity surveyor.
Alejandro Marques Hernández, ingeniero / engineer (GIA, grupo de ingeniería y arquitectura)